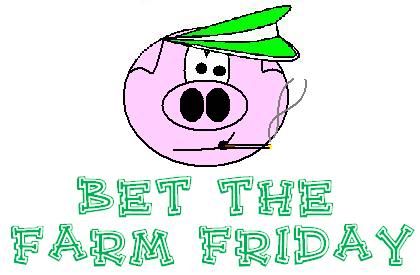 (Note: Bet the Farm Friday or (BTFF) will run every Friday with the implied assumption that a) FH2H doesn't encourage gambling, b) we only encourage sports betting where legal, AND c) there are a lot of online sportsbooks available that are ambiguous on the legality so it should be okay...wait, did I say that out loud...nevermind....moving on....)
We are coming off back-to-back 2-1 weeks for BTTF, and I think we have a decent chance at a perfect 3-0 week. Let's do it...(home teams in CAPS):
1. Auburn (+21) at LSU
I liked Auburn before the LSU suspensions were announced, and with LSU's best defensive player and their starting running back out, I like AU even more. I know Auburn is down but this is a rivalry game, so they should at least play hard. Plus, I have a dirty secret: the Vegas casinos have been getting killed by heavy favorites covering, so I think they have started in inflate the lines toward the favorite. I like LSU by two scores but not three.
Dawgola's Pick: Auburn (+21)
2. Wisconsin at MICHIGAN STATE (+7.5)
Guess what? Wisconsin is playing their first road game of the season with weekend. That's right, although they have looked impressive, Wisky has played a very weak schedule. Michigan State is a very solid team and easily has the best defense Wisconsin has faced all season. Both teams have very solid veteran QBs so I expect a great game. Personally, I think Michigan State has a great chance to win this game outright but if they don't, I'll tip my cap to Wisky.
Dawgola's Pick: Michigan State (+7.5)
3. Louisiana Tech at UTAH STATE (-6.5)
I know this isn't the sexiest game on the board but it caught my eye anyway. This is a game involving two WAC teams that are both 2-4. But if you look closer, I think you will find Utah State is a step above LA Tech. Utah State has lost three games (Auburn, Colorado St., and BYU) in the last minute, so they should be 5-1. And although LA Tech also has two close losses (Houston by 1 and to Miss State in overtime) they have also been taken to overtime by Central Arkansas and got smashed by Hawaii at home 44-26. I think Utah State will take their close loss frustration out at home against La Tech and get their first conference win.
Dawgola's Pick: Utah State (-6.5)