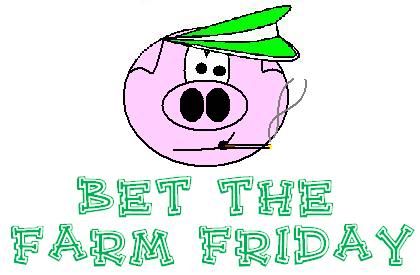 (Note: Bet the Farm Friday or (BTFF) will run every Friday with the implied assumption that a) FH2H doesn't encourage gambling, b) we only encourage sports betting where legal, AND c) there are a lot of online sportsbooks available that are ambiguous on the legality so it should be okay...wait, did I say that out loud...nevermind....moving on....)
After a 2-1 week, we need to keep the foot on the gas and strike while the iron is hot...because you know an 0-3 week is looming in the near future. Anyway, I think we got some more winners for this week so let's get to the games (home team in CAPS):
1. Utah (+9) at USC
I don't know how to say this but Souther Cal...is really not that good. Their QB Matt Barkley is legit, but they have ZERO depth at every position (kind of like another team I know). They start multiple true freshmen on defense and in case you missed their season opener...you're welcome. They struggled to beat a below average Minnesota team 19-17 (as a 24 point favorite). Meanwhile Utah makes their debut in the new PAC-12 and will certainly look to prove all of the doubters wrong. They won a yawner over Montana State 27-10 in week 1, but their quarterback Jordan Wynn is entering his third year as a starter. Utah is a great program and has won at least 10 games each of the past three seasons. I like this one to be a close one, with Utah standing a great chance at winning it straight up.
Dawgola's Pick: Utah (+9)
2. Cal (-6) at COLORADO
Don't ask me why but I watched some highlights of Colorado's season opener against Hawaii (a 34-17 loss btw). And let me tell you...they were NOT impressive. Then again, they really haven't been impressive since about 2004. Anyway, Cal rather easily knocked off Fresno State 36-21 in their opener, and is certainly a better overall team than Hawaii. I think Colorado may be the second worst team in the Pac-12 (behind Washington State), and Cal should bounce back from an uncharacteristically bad season last year. I think the Buffs may keep it close for a half but the Bears pull away in the third quarter.
Dawgola's Pick: Cal (-6)
3. Oregon State at WISCONSIN (-20)
I know what you're thinking: how can you lay that many points against an established Pac-12 team? There are a few reasons:
Oregon State lost to Sacramento State in their season opener 29-28.
Wisconsin's 51-17 win over UNLV in their opener wasn't even THAT close if you actually watched it.
This game is being played at 12:00 EST, which is 9 AM Pacific time. Translation: OSU's biological clocks will be severely effed up.
Need I say more? Dawgola's Pick: Wisconsin (-20)
4. *BONUS PICK* Stanford (-13 first half line) at DUKE
Do I really need to explain this one? Duke lost to Richmond at home last week and Stanford has the best QB prospect in the past 10 years (and they just beat San Jose State 57-3). If Duke keeps this within 13 point by halftime I will be VERY impressed. Dawgola's Pick: Stanford (-13 First Half)