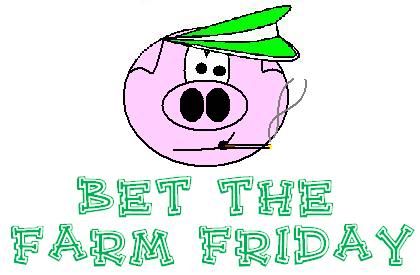 (Note: Bet the Farm Friday or (BTFF) will run every Friday with the implied assumption that a) FH2H doesn't encourage gambling, b) we only encourage sports betting where legal, AND c) there are a lot of online sportsbooks available that are ambiguous on the legality so it should be okay...wait, did I say that out loud...nevermind....moving on....)
Well, last week we had a little bit of controversy with the Utah/USC game (in case you missed it, USC blocked a FG and returned it for a TD at the end of the game with a 3 point lead...except it didn't count...then it DID count.) Either way, I'm counting it as a win so I only had modest 2-2 week last week. But we're still on the plus side as my overall record thus far is 4-3. Now...let's get some more winners this week (home team in CAPS):
1. Arizona State at ILLINOIS (-2)
I'm always wary betting on a Zook-coached team, but I feel confident this week. Arizona State is coming off a big national TV game last Friday, in which they edged Missouri 37-30 and subsequently entered the top 25. Meanwhile Illinois has one of the best young quarterbacks you've never heard of in Nathan Scheelhaase. Last season as a freshman, he threw for 1825 yards and had 17 TDs to only 8 picks. He also rushed for over 800 yards -- a true dual-threat guy. Not bad for a freshman. Illinois has played two cupcakes thus far this season (Arkansas State and South Dakota St.) and they rolled in both games. This is a big home game for the Illini against a ranked opponent, and I expect ASU to have a let down after their big home win over Missouri.
Dawgola's Pick: Illinois (-2)
2. Stanford at ARIZONA (+10)
I know Arizona got smashed by Okey State last week, but they were on the road against a good team and were missing their number 1 receiver. They will not put up back-to-back stinkers. And although Andrew Luck is easily the best QB in the country, Arizona's Nick Foles is no slouch. Stanford is coming off a long road trip against Duke, and now has to turn around and play on the road again. And in case you only saw the final score of the Duke game (44-14), you might not know that it was a 10-7 game with under a minute left in the first half. I want Stanford's new coach, David Shaw, to prove he can lead his team into a tough environment and pull out a W. Stanford is good but I expect this one to be a one-score game.
Dawgola's Pick: Arizona (+10)
3. Michigan State (+5) at NOTRE DAME
I actually think Notre Dame is decent, but their pass defense is uh...suspect. Michigan State is coming of and 11-2 season (and is 2-0 this year) and returns QB Kirk Cousins, who I think is entering his 8th season. Notre Dame put up points against Michigan, but MSU's defense is WAY ahead of Michigan. This will be another close game that should fall within a field goal one way or another.
Dawgola's Pick: Michigan State (+5)