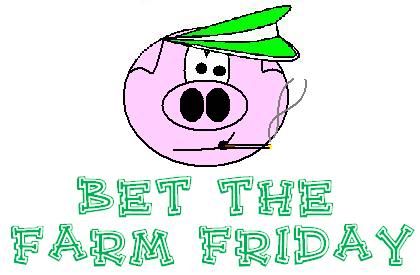 Well, our courageous little BTFF pig has made his Napoleanic return to H2H. It's been a long off-season for him, but he has been using it to study each and every team so he can pick some sure-fire winners. LET'S GET IT ON (Home team in CAPS):
1. ALABAMA (-38) vs. Kent State
I know what you're thinking -- this is a pretty big spread for a football game. But Saban doesn't take his foot off the gas when facing sub-par opponents. Just look at some of Bama's recent games against poor teams:
Bama 48 San Jose St. 3 (2010)
Bama 62 Duke 13 (2010)
Bama 40 FIU 14 (2009)
Bama 53 N. Texas 7 (2009)
You get my point? And I will bet you that trying to figure out his QB situation will actually make the score get MORE out of hand because he will give multiple guys quality reps (still throwing while up 5 TDs). And I haven't even mentioned the fact that they return pretty much their entire defense. Meanwhile, Kent State is...Kent State -- a mid-level MAC team. This one shouldn't be close. Dawgola's Pick: Alabama (-38)
2. Army (+10) at NORTHERN ILLINOIS
Both of these teams were probably a lot better than you realized last seaason -- NIU went 11-3 and Army won their first bowl game since 1985. Now, here is what I DO like about NIU: They return their QB and entire offensive line. Here is what I DON'T like: they also lost their head coach to Minnesota as well as 9 starters on defense. Meanwhile Army returns all of their playmakers on offense but do lose several O-linemen. Personally, I think this could be high scoring, but I don't like all of the inexperienced NIU defenders trying to stop Army's option attack. I still think NIU wins the game but Army can keep it close (plus, can you really blame me for backing a service academy?)
Dawgola's Pick: Army (+10)
3. LSU (+4) vs. OREGON (DALLAS, TX)
This line moved five points Oregon's way because Jordan Jefferson is out. Really? Is he THAT much of a difference maker for LSU? I'm not buying it and for that matter, I'm not buying Darren Thomas either. I know that's a crazy statement given how successful he was last season, but he really looked shaky at times during the NC game last year and Oregon hasn't faced a defense like LSU's since they played Ohio State in the Rose Bowl two years ago (and only scored 17 points). Also, Oregon only returns 2 of their front 7 on defense, so I expect The Hat to pound the rock. This could be a weird ugly game, and it should be close. I expect LSU to contain LaMichael James enough to eek out a win.
Dawgola's Pick: LSU (+4)