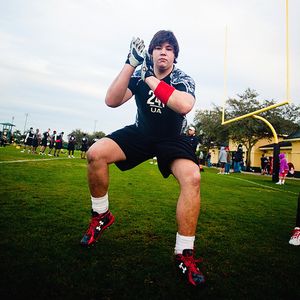 High knees, big fella...
Today we spot the first new signee on the countdown, Dalton, GA native Watts Dantzler at No. 78. We're now officially three weeks into this year's slow muddle toward the best 6 months of the year (part of that is because two of the best holidays in the world - Christmas - firstly - then my birthday).
I've been trying to keep folks abreast of the numbers for signees, but getting some of these non-skill position guys is looking tough. I believe I missed Jay Rome, as I've heard he'll be sporting the No. 87 come this fall. My apologies, but these aren't these easiest things to figure when you aren't at Butts-Mehre all the time. (If you know of others I've missed, please let me know in the comments. Much obliged.)
At any rate, today is Watts' day and he shall have it. Just to forewarn you, there won't be any shenanigans today. With Father's Day coming up and it being Watts' turn on the countdown, this was appropriate - you'll see why in a second.
Just a short year ago, Watts decided to make the decision of where he wanted to go to school. As you're aware, his dad was a letterman at Georgia from 1971-1973 and was a very, very good golfer from what I'm told. Danny passed away in 2009 of ALS, a fight that he struggled with for nearly three years. If you haven't seen his blog,
it might jerk a few tears
if you try to read it very long.
As a tribute to his late father, Dantzler thought it a good idea to make his commitment known on Father's Day, as I'm sure it made that Dawg very happy as he stared down on his son.
"Some things changed (recently) with recruiting, and I was going to do it on my birthday but it just seemed like a good idea, to honor my father," the youngest Dantzler said. "It's been in the back of my mind the last month or so."
(
Matt Winkeljohn, ESPN
)
Well big fella, with the situation our O-line is currently in, I'd have to say you made a wise choice.
Forecast
We currently have about four guys on scholarship that can play offensive tackle at a high level in the SEC, not counting the freshman that just arrived on campus. That list includes Glenn, Gates, Long, and Anderson as of right now. I would say Benedict could be included in that group, but his injury and what I hear about it have me pretty cautious on saying that he'll ever play tackle again. The coaching staff gives me little confidence with their talk of Benedict and what progress he's made after the knee injury. I hope I'm wrong.
So, with so little depth at the position, I'm going to venture a guess that, barring no other injuries, the better of DeBell and Dantzler will see a pretty good bit of time this season in a reserve capacity. I don't know why or how this happens, but we seemingly have the worst luck recruiting OL positions of any team in the country for the last 10 years. I'd conservatively estimate that 75% of our top-tier recruits there either A) Never pan out; or B) Get injured (or are injured when they come in) and never see meaningful time.
Basically the O-line situation is going to boil down to this, if you have any ability at all to pass block, you're going to get a good look at some time at RT. Even if Bean gets his stuff together, he can't play every snap and he's not having the worst time run blocking.
GATA!
Next Up: No. 77, Trinton Sturdivant