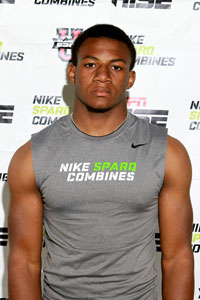 Holsey's stock has soared in recent months
after running in the 4.3's at a camp.
Holsey, a
5'9 corner out of Creekside High School
will be announcing from a laundry list of over 20 offers. He's probably the fastest guy in the state next year and has incredible ball skills, reportedly. He just received a UGA offer about a week and a half ago and grew up a UGA fan.
While that sounds awesome, it looks as though the Trooper dog and towel show has wooed him to Auburn. I have it on pretty good authority that he'll be a Tiger come this afternoon, making him the second of the top-2 corners to likely head out of state- Geno Smith being the other.
I don't post much about football recruiting because, frankly, I've become extremely skeptical of the actual value of getting guys with a lot of STARS. Give me a bunch of two, three, and four star football players who are good citizens and work hard to win and you can field a very good team versus one stacked with 4 and 5-star "athletes" who can't play their position.
At any rate, it's still pretty discouraging that you can't get the state's top two CB targets at a position sorely in need of depth. I just hope that we get at least a couple guys in this class at that position who can play.