I discovered the coolest thing I have ever seen yesterday. It's not every day that one of your co-workers tells you he saw a DeLorean driving down Roswell Road. And by the way MMH, thank you for sharing this with me- neither I nor you actually knew how totally rad this experience was.
But, my friends, this was no ordinary 1981 Delorean. This was an exact replica of the car used in "Back to The Future". And when I say "exact replica" I mean working time circuits that are triggered by a GPS-enabled speedometer. Oh, and don't forget the Mr. Fusion and actual working flux capacitor (I assume plutonium is pretty hard to get ahold of these days). At any rate, with some more research the sighting became even more interesting.
The man who created the time machine is Robert "Videobob" Moseley. After doing my homework on Videobob, I've come to the conclusion that this guy is, by far, the "Most Interesting Man In the World". Sorry, Dos Equis Guy, but you're not even in the same epoch (yes... an obvious time pun) as Moseley. If you're unfamiliar with Pantera I won't be offended or explain their significance (if you are under 35-ish you probably won't know the "Cowboys From Hell"). Well he's best friends with Vinnie Paul Abbott, who started the band and can rock the hell out of a set of drums. Take a little listen to the cool, soothing, melodic tones...
Dimebag, we miss you.
Anyway, just so you know for sure that this guy is an awe inspiring individual, the creator of
Family Guy,
Seth McFarlane also has one of these replica puppies in his garage courtesy of Videobob. This particular Georgia Delorean will be
featured on the hit Discovery Channel show "Auction Kings"
in the new season. Listen, I'm being serious when I say this, I would really, really love to meet this guy. You have to be pretty damn high on the awesome list to be in the presence of Leah Thomson, Christopher Lloyd, and Michael J. Fox at the same time.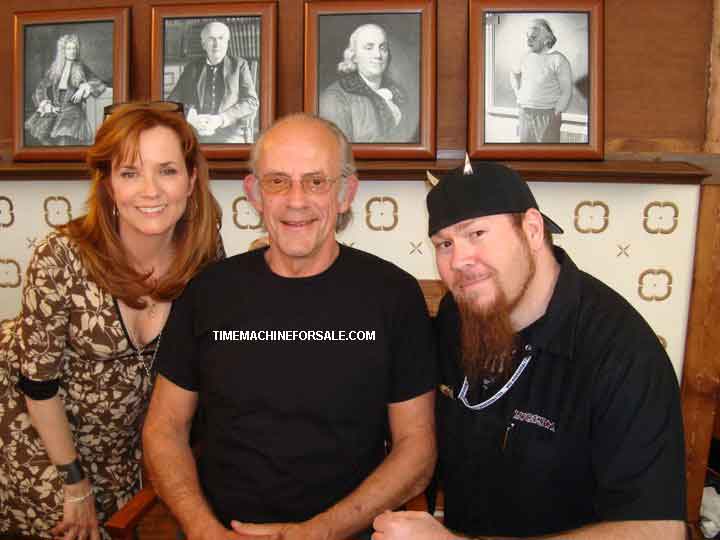 I have now made it my goal to own one these replica time machines before I die. Can't you just imagine driving up to Rathbun's and telling the valet, "Hey, watch out. Don't hit 88, I haven't reset the time circuits. You could be spending the rest of your day with Biff Tannen and his leisure suit in alternate 1985." I mean, how in the world would you not be the most awesome cat in town if you were driving down Peachtree blaring "Back in Time" or "Power of Love" in a tricked-out Delorean?
Like Dawgola said when we were talking about this, "I probably want one of these more than any other car in the world. ANY OTHER CAR..."
So, do I have any takers out there on a 1/3 share of the controlling interests of a brand new time machine?