Well, let's first start with the game this past Saturday: To say this was a "much needed win" would be like saying Georgia's colors are red and black -- quite the obvious statement. After falling Wednesday to Vandy, many -- including myself -- predicted two more looming losses to Tennessee and Florida (upcoming this Thursday). Luckily, we "got back" that horrible second-half performance Wednesday with a 69-63 victory Saturday over the Vols.
How did we do it? First of all, Tennessee came out VERY uninspired to start the game; I'm not saying we were not focused, but Tennessee wasn't very sharp. But...as most of our opponents do, the Vols rallied to overcome a 15-point deficit to eventually take the lead about midway through the second half. At this point, I was writing it off and subsequently debating whether to attend our first-round NIT game. But to our credit, we avoided a "Vandy game part deux tailspin" and held off the Vols at the end. SO, barring a catastrophe against USCe and/or LSU at home, that should get us into the big dance.
As for the SEC Tourney, a lot of scenarios are on the table regarding our seeding. First, take a look at the East standings: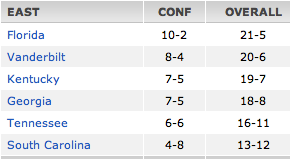 As you can see, if the season ended today, UK would be the 3-seed via each team's record within the division (since we split the season series). Obviously, there remains four games for each team so the standings could vary drastically, especially when you consider each team's remaining schedule below (listed in chronological order; we'll leave S.C. out of this discussion for now):
Florida: vs. UGA, @UK, vs. Alabama, @Vandy
Vanderbilt: vs. Tenn, @LSU, @UK, vs. UF
Kentucky: @Arky, vs. UF, vs. Vandy, @Tenn
Georgia: @UF, vs. S.C., vs. LSU, @Alabama
Tennessee: @Vandy, vs. Miss St., @S.C., vs. UK
Based on the remaining schedules, I would say us and Tennessee have the easiest remaining games, but it seems like UF, UK, Vandy, and Tenn all play each other as we head down the stretch. Obviously a lot would have to go wrong for Florida not to get the 1-seed, but UGA could finish anywhere from 2nd (not likely) to 5th (would probably happen if Tennessee beats Vandy Tuesday.) Basically, this tie-breaker thing is not in our favor since (a) we haven't swept any of the East teams and (b) all of our conference losses are against East teams.
Now, let's go through UGA's possible seedings (assuming we don't get the 2-seed):
If we are a 3-seed -- we would play the West 6-seed in the first round (either Auburn or LSU) and the winner would play the West 2-seed in the second round (currently Miss St.)
If we are a 4-seed -- we would play the West 5-seed (also Auburn or LSU) and the winner would play the West 1-seed in the second round (undoubtedly Alabama)
If we are a 5-seed -- we would play the West 4-seed (Arkansas or Ole Miss) and the winner would play the East 1-seed in the second round (most likely Florida, NOT ideal)
Okay, okay, my head is about to explode so let me put it another way....we need to keep winning.