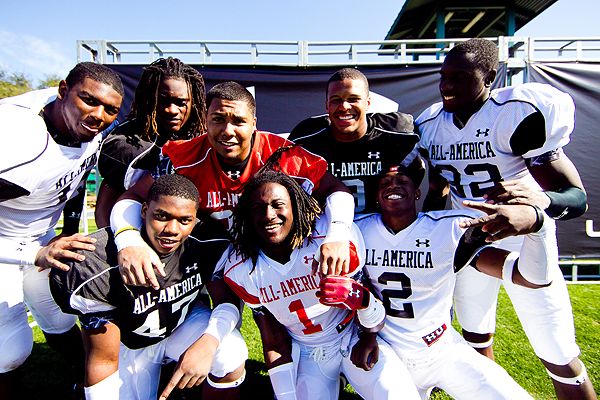 Pictured: Dickson (47), Crowell (1), Bray (2),
Scott-Wesley (22), Rome (Top-Left).
Also Pictured: A.J. Johnson, Gabe Wright, James Vaughers
(Courtesy Davide De Pas, ESPN)
Tonight at 7:00, ESPN will be televising the Annual UA Game down in Orlando, Florida. The game features one Georgia-bound player already as well as some players that are currently being recruited by Georgia and have the Dawgs pretty high on their list. Some of these guys that have interest in Georgia will be making their decision tomorrow, making the game another event on the list of happenings that may end up disappointing you further this year.
In total, there are seven guys featured in the game that could potentially end up filling out Mark Richt's "Dream Team" recruiting philosophy this year. If the Dawgs were to end up keeping all of these home-grown talents in state and headed for Athens, it would appear that this would be one of the all-time great recruiting classes in Georgia's history. In fact, I can't remember a team that has had that many Under Armour All-Americans before. It would certainly have to be one of the best classes of the last 5 years.
Let's take a look at those players in Orlando who could end up being a part of the Richt's "Dream Team". Just so you know, these are ESPN's rankings. Let's start with the committed Dawg:
Justin Scott-Wesley, WR, Mitchell County (4-star, #17 WR, #99 OVR): From all reports, S-W has looked very good in early practices. With his speed. he has been able to create separation between the faster corners in Orlando and has impressed. If he sticks with the Dawgs, look for him to make an impact early, perhaps in the return game.
Malcolm Mitchell, WR/CB, Valdosta (4-star, #6 WR, #44 OVR): I haven't heard much out of Mitchell in Orlando, but from seeing him in person last week, I'm convinced he'd be an immediate impact player on either side of the ball. Here's to hoping he picks the Dawgs.
Jay Rome, TE, Valdosta (4-star, #2 TE, #18 OVR): It's no secret that Rome will probably be heading to Athens. From everything I've heard he's recruiting players for the Dawgs. Arguably the best TE in the nation.
Xzavier Dickson, OLB, Griffin (4-star, #5 DE, #22 OVR): Other than the #1 player in the country, Dickson has been the most consistent pass rusher all week. He'll be announcing his college destination tomorrow, which could be a nice late Christmas present for Todd Grantham.
Damian Swann, CB, Grady (4-star, #12 ATH, #90 OVR): Swann is another guy who already has made up his mind about where he's headed according to some reports. I think he's headed for Athens. If he's as good as advertised, he'll have the opportunity for a lot of early playing time, should he come to UGA.
Quan Bray, ATH, Troup (4-star, #2 ATH, #23 OVR): Bray will also be announcing his decision tomorrow and has UGA and Auburn on top. I've heard both schools lead from different sources, but I think he's probably headed to Auburn with the ability he has to be a playmaker in space. Malzahn would love to have a weapon like that at his disposal.
Isaiah Crowell, RB, Carver-Columbus (5-star, #1 RB, #5 OVR): I'd say Ray Drew and Crowell could battle for the #1 spot on UGA's recruiting board. There hasn't been a back this good in Georgia in a long, long time. He has speed, change of direction, and can catch the ball well out of the backfield. Would be a huge get for the Dawgs. He'll be one of those signing day guys, but with Bama now having two 4-star backs committed, I'm starting to feel better about our chances.
Like I said and as you can see, this class has the potential for greatness. These all seem like pretty good kids too, which gives me some hope that we can get over these discipline issues and have a really great class on top of that. Of course that hinges on IF they actually choose the good guys.