No no, this is was not an NFL game. And if it was, it would be borderline unwatchable. No, last night, the Tennessee Vols
lost to something
called Oakland University. This fascinates me for three main reasons:
(a) the usual "big upset" reason coupled with the fact that Tennessee has been playing so well lately
(b) the fact that Oakland University is not even located in Oakland, California (or any part of California for that matter)
(c) the coach, Greg Kampe, (pictured below) looks quite bizarre and it's KILLING me that I can't think of the person he reminds me of. He sort of looks like a comedic antagonist from a 90's Adam Sandler film. I mean, the outfit...the hair...it's just mesmerizing.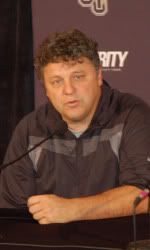 Actually, Oakland is located on the border of Auburn Hills and Rochester Hills, Michigan. They earned an automatic bid into the NCAA tournament last year, representing the "Summit League". As you might expect, the Summit League (a conference that doesn't even have the word "conference" in its name) contains some doozies aside from just Oakland:
1. Centenary (whose nickname is "the Gentlemen"...and is moving down to division III next year.
2. IUPUI (literally stands for "Indiana University Purdue University at Indianapolis")
3. IPFW ("Indiana University Purdue University at Fort Wayne")
4. North Dakota State
5. South Dakota State
6. UMKC ("University of Missouri at Kansas City" nicknamed "the Kangaroos")
7. Southern Utah
8. Western Illinois
9. Oral Roberts (kind of makes you snicker)
What also always fascinates me is how some of these crazy-sounding schools can field teams that can compete with -- and in this case defeat -- a national program like Tennessee (for the record Oakland only lost to Michigan State by 1 point the other day). What it tells me is this: there are a lot of solid college basketball players and unlike football, you only need two or three really good players to compete with the big boys. (another good example from last night which occurred AFTER I wrote the majority of this article: Drexel defeating Louisville 52-46)
This brings me to my next point (or fear): Saturday we start a run of five straight games against supposed "cupcakes". The problem is, the "badness" from losing to any of these teams far exceeds the "goodness" from defeating them (I
think
that last sentence made sense). And our first opponent, Arkansas State, is a team that is 3-6, but has a lot of experience, a former SEC coach (John Brady, formerly of LSU), and has a close loss to then #15 Memphis in overtime earlier this season.
On the flip side, IF we are able to take care of business, this will be a very important stretch in terms of our inexperienced players getting more action...I hope this is the reason Fox set up the schedule this way. But it does scare me because we will go a solid month between "major" opponents (Dec. 7 vs. Tech => Jan. 8 vs. Kentucky). Hopefully, by that time, we will still only have two losses.