Tonight at 7:00 at the Stegasaurus, we take on the Blazers of UAB...coached by the artist formerly known as Indiana's head coach, Mike Davis. Why is he the "former" coach of Indiana. Well...this didn't help:
Actually, he's been very good since taking over UAB. He has compiled a 91-49 record for the Blazers, and has multiple NCAA tournament appearances. This is mainly due to his ability to attract decent talent to Birmingham, whether it be by recruiting or transfers (this is where former Dawg Channing Toney transferred). This year, they are 6-1, which includes a nice win over Arkansas with their only loss coming at Arizona State by 3. Here are the player stats for UAB thus far: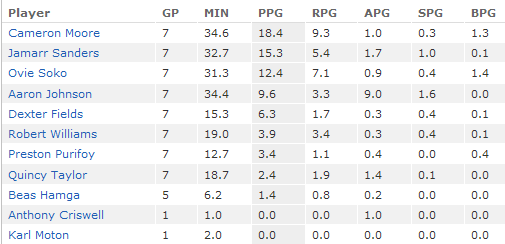 As you can see, forward
Cameron Moore
has emerged as the team's go-to scorer. He's 6-8 and has a very well-rounded offensive game. The point guard is 5'8''
Aaron Johnson
, and he is averaging a staggering NINE assists per game so far.
But they did lose three starters from last year including prized guard Elijah Millsap who nearly averaged a double-double. And while this may not be the
best
team Davis has had at UAB, they are still plenty good enough to beat the Dawgs if we come out sluggish (actually...they DID beat us last year 72-56). Given that we've had four days to prepare, I would be highly disappointed if we come out looking like crap. These are the games we must win if we want to make it to the dance in March.