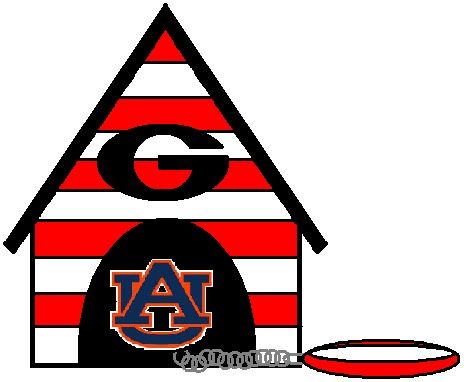 While all eyes are on Cam and his alleged money hungry preacher dad, there is a game this weekend and Auburn's offense IS one of the best in the country. Let's put it another way -- they lead the SEC in yards per game (509.4), scoring offense (42.2), and yards per play (7.7). The mastermind behind the offense is Guz Malzahn, who was previously at Tulsa and Arkansas.
(disclaimer -- Trooper Taylor IS an assistant, so if you hate coaches that turn their hats backwards then cover your eyes on gameday)
The big trait that most differentiates this offense from others is the tempo at which they run. It's a spread offense that uses a lot of play action, but the main goal is to run the plays as fast as possible, thus wearing down the opponent....sort of like Florida did in the first half of our game. The only difference is Auburn is way more efficient on offense than UF, and forcing three-and-outs are few and far between.
While Auburn does have more weapons than just Cam, we'll start with the QBs:


QUARTERBACKS
: He's the leading Heisman Candidate (pending the allegations), he's big, he's tall, and he's fast -- he's
#2 Cameron Newton
! Here are his passing numbers: 123/183 (67.2%) 1890 yards 19 TD 5 INT.....and here are his rushing numbers: 176 attempts 1146 yards (6.51 AVG), 15 TDs. So in a nut shell, if there was ever a player we need to get suspended/injured....wait, nevermind...just suspended. The backup is
#14 Barrett Trotter
....I don't even have to look at his photo...he's white...he's slow...and he's not playing a lick unless there is a serious injury involved.


RUNNING BACKS:
While Auburn is mostly a running back by committee, recently, they have been featuring freshman
#5 Michael Dyer
. He's the team's second leading rusher(799 yards, only behind Newton) and is probably the most physical back as well. The other two backs with significant carries are
#23 Onterio McCalebb
(612 yards) and
#27 Mario Fannin
(365 yards). All three backs will get
some
carries but expect Dyer to get the most. Fannin leads the running backs in receiving (13 rec. for 142 yards).


WIDE RECEIVERS:
The team's leading receiver is
#89 Darvin Adams
(36 rec. 633 yds 5 TD). Adams is the tallest impact receiver at 6'3, and also leads the team in yards per reception with 17.6. His complement on the other side is
#81 Terrell Zachary
(33 rec. 490 yds 2 TD). Zachary is also Auburn's threat on end arounds/reverses, as he has 8 carries for 42 yards. The third receiver is
#80 Emory Blake
, who has 17 rec. for 306 yards. Kodi Burns, who is entering his 13th season at Auburn, is also playing WR this year, and has 8 rec. for 110 yards, and one wounded duck TD pass to Newton.
OFFENSIVE LINE:
The offensive line for Auburn is one of the most experienced UGA has faced, as they start 4 Seniors and 1 Junior. While it is tough to statistically evaluate the O-Line because of Newton's superb elusiveness, Auburn does average 6.65 yards per carry, which has to say
something
right? They have given up 21 sacks, but remember, Auburn runs so many plays that the raw number is deceiving. I think it will be tough to get pressure on Newton not only because of his speed, but because of the blocking as well. Here are the projected starters on the line:
LT: Lee Ziemba
LG: Mike Berry
C: Ryan Pugh
RG: Byron Isom
RT: Brandon Mosley
PLACE KICKER:
The kicker is #18 Wes Byrum, who is entering his 11th season at Auburn, and has made 15 of 19 field goals and 51/52 XPs this season.
It's hard to predict how this game will play out given the Newton situation and the fact the UGA has won four in a row. Quite frankly nothing would surprise me other than a blowout UGA's way, but it should be an entertaining afternoon nonetheless.
(Here is AU's offensive depth chart according to their Rivals site):