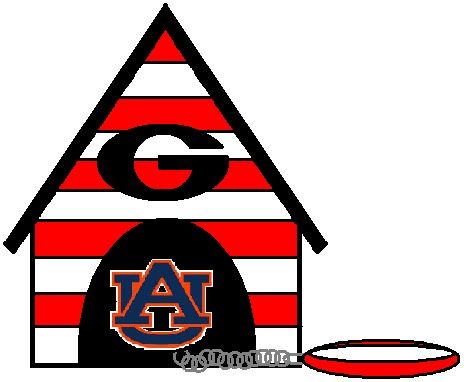 The Deep South's Oldest Rivalry kicks off this Saturday at 3:30 amid a cloud of controversy. Hopefully enough to keep the War/Tiger/Plainsmen distracted from Aaron Murray and A.J. Green connecting on dozens of touchdown passes. I'm afraid that's what we'll need to get out of there with a win.
Ted Roof
, of Duke infamy, leads the W/T/P's defense and also coaches the linebackers. If you happen to attend the game, make sure and chant NERD! NERD! NERD! as I'm sure you remember that Roof is a Techie.
At any rate, AU's defense closely resembles UGA's in the fact that they are stout against the run, but can't get off the field in passing situations. The Tigers defense is ranked 8th in the SEC in total defense at just about 356 yards per game. breaking that down into rushing and passing D, AU is ranked 3rd and 11th, allowing and 115 and 241 yards per game respectively. Scoring defense ranks 8th at just over 24 points per contest. (Stats via
cfbstats.com
) As you can tell, the highly aggressive nature of the Barner's defense leaves them a bit susceptible to the pass.
Let's break it down by position.
Defensive Line:
The Barner's 4-3 defensive line is anchored by potential All-American #90 Nick Fairley at the defensive tackle spot. Fairley ranks 1st in the conference in tackles for loss (18) and second in sacks (7.5). These totals are extremely impressive for a DT, and his production is right up there with Suh's from last year. DT #98 Zach Clayton has 7 TFL on the season and is very comparable to Fairley in the measurement department. Defensive ends are #94 Nosa Eguae and #45 Antoine Carter. Carter is second on the team in TFL and sacks behind Fairley. Providing depth along the front line are DE's #55 Corey Lemonier and #49 Michael Goggans, and DT's #93 Mike Blanc and #54 Jeff Whitaker, who you should recognize as one of UGA's big recruiting misses last year.
Analysis: These guys are absolute monsters against the run. With our pedestrian running game this year, I'm sure that we will have trouble running the ball. They do seem to get a good pass rush too, but are seriously ineffective at creating enough pressure to disrupt that part of the offense. Beside Fairley, this looks like a pretty average unit. Because of the ineffective pass rush, this unit gets penalized from what could be an all star cast.
GRADE: B
Linebackers: Auburn's linebacking corps is headlined by pre-season All-SEC #17 Josh Bynes. Bynes has averaged 5.5 tackles per game this season, as his production from last year has slightly declined from 8 per game. He still leads the team in tackles with 55. #46 Craig Stevens is the WLB and #25 Darren Bates is the SLB at a feathery 5'11, 203. Bates was moved from safety in the offseason. Providing depth is #21 Eltoro Freeman, #33 Jessel Curry, and #58 Harris Gaston.
Analysis: While this is a very veteran group of linebackers, their impact from last year has markedly decreased. They should be more experienced and deeper than they were last year, but they are not racking up stats. I think they are a pretty good group, although probably not in the top group of units that we have faced.
GRADE: C
Cornerbacks/Safeties: #14 Demond Washington and #15 Neiko Thorpe are the starting two corners for Auburn. Thorpe is certainly the more experienced guy, with 14 starts prior to this season, while Washington is a JUCO transfer and had four starts last season. Thorpe and Washington are both in the top 5 in tackles on the team, coming in at 2nd and 5th respectively. Providing depth at the corner spots are #22 T'Sharvan Bell and #3 Chris Davis.
#2 Aairon Savage and #4 Zac Etheridge are the starting safeties for the W/T/P's, after Savage beat out projected starter turned backup #26 Mike McNeil. Etheridge is probably their 3rd best player on defense, behind Fairley and Bynes. He ranks second on the team in total tackles with 50.
Analysis: If you take a look at pass defense here, the Barners look very bad. Although they are comparable to the Dawgs as far as being good in rush defense and bad in coverage, they are exponentially worse than Vandy and Tennessee because of the talent they possess, yet still aren't effective. If you've seen any of AU's games, you'd realize that they can't stop anyone from throwing it. Heck, Chattanooga threw for 225 against these guys.
GRADE: F
Punter: #30 Steven Clark has taken over punting duties for the Aubies. He replaced senior #17 Ryan Shoemaker after the Carolina game.
GRADE: PASS
Here is an updated depth chart via Auburn's Rivals page: