Thank God, a winning week for H2H, with some
money picks
from Van Dawgin. Well, the pig has benefited from it at least. Anyway, let's keep this train rolling....I'm cautiously optimistic about this week...very giddy..(home team IN CAPS)
Baylor (+8.5) at OKLAHOMA ST
. --
As we predicted before the season
, Baylor has had a spectacularly solid year...actually they've exceeded our expectations. Don't believe me? Just check out the current Big 12 South standings: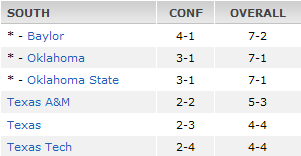 See, I told you. And guess what? -- Robert Griffin is the best player in the Big 12. Yeah, I went there. He's better than DeMarcco Murray, better than Justin Blackmon, and better than Taylor Martinez. Why? Because he leads the conference in total offense (2,993 yards) with less talent around him than any of those other guys. Baylor's defense is serviceable, ranking in the middle of the pack in the Big 12 in most categories (which is BETTER than Okey State, who ranks near the bottom). My point? This is for first place in the South. Baylor has proven they can win on the road, as they knocked off Texas last week in Austin 30-22. I'm not saying Baylor will win the game, but folks, they're GETTING 8.5 points. LET'S DO THIS BEARS!!!!!!!!!
Dawgola's play: Baylor (+8.5)
Hawaii (+21) at BOISE STATE
-- Quick, who's leading the WAC so far this year? If you answered Boise, you're
sort of
right: Boise is 3-0 but Hawaii is 5-0. (yes, Hawaii 5-0, get it?) According to
Jeff Sagarin's well-respected college football rankings
, Boise State's Strength of Schedule ranks 72. Hawaii ranks 64. Boise State's offense ranks 1st in the nation in yards per play (7.6), Hawaii ranks 2nd (7.5). They got the Big Mac, we got the Big Mic. My point here is that Boise State's offense has been
slightly
better than Hawaii's against
slightly worse
competition. So you could argue that the teams' offenses are pretty even. And although Boise's defense ranks first in the WAC in most defensive categories, Hawaii's defense ranks 2nd in most categories. Yes, Boise should win this game, but this is by far the best WAC team Boise has faced so far this year, and the third best team overall behind VA Tech and Oregon State. I think this could be one of those games that leaves analysts saying things like, "Well, I know Boise won, but was it impressive enough for the pollsters...let's bring in our BCS guru Brad Edwards...". You get the point.
Dawgola's Play: Hawaii (+21)
UTAH (+5) vs. Texas Christian
-- Not a lot of analysis on this one...the game is at Utah, it will pretty much decide the Mountain West, the teams appear to be fairly even, and the home team is getting over a field goal. Take the points right?
Dawgola's Play -- Utah (+5)