The college basketball regular season officially kicks off tonight as the "Coaches vs. Cancer" tournament features four games:
Rhode Island vs. #5 Pittsburgh (7:00 pm ESPNU)
UC-Irvine vs. Illinois (8:00 ESPN 3)
Navy vs. Texas (9:00 ESPNU)
Seattle vs. Maryland (8:00)
Most teams (UGA included) start this Friday. Anyway, here are the preseason rankings for the AP poll, just as an FYI: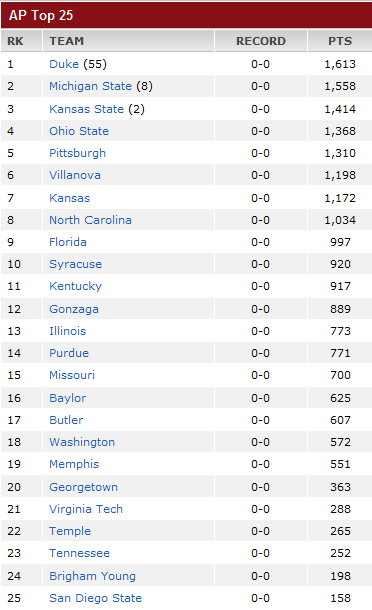 By the way, Georgia received 67 votes to be ranked, third-most by all unranked teams. I guess that means that we're ranked 28th in a roundabout way. If we are able to win our first two games (which includes Colorado, most likely without Trey), we may find our way into the Top 25 sooner than most thought.