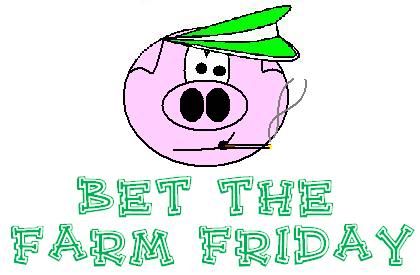 (Note: Bet the Farm Friday or (BTFF) will run every Friday with the implied assumption that a) FH2H doesn't encourage gambling, b) we only encourage sports betting where legal, AND c) there are a lot of online sportsbooks available that are ambiguous on the legality so it should be okay...wait, did I say that out loud...nevermind....moving on....)



Games for Saturday Sept. 18:

Love these picks this week. I mean, I

REALLY

LOVE THESE PICKS. Last week, I went a disappointing 1-2 BUT I'm still 4-3 on the year so we're in the green. This week it's all about the home underdogs. Normally, I think this logic is somewhat overrated but I have some good angles on these games. In other words "IF YOU HATE WINNING MONEY THEN NAVIGATE TO ANOTHER WEBSITE!!!! But seriously, let's take a look at these games (home team in CAPS):



UTAH STATE (+5) vs. Fresno State

-- Yes, Fresno went 8-5 last year and Utah St. went 4-8. But, when these teams played last season at Fresno, Utah State only lost by 4 points. Obviously the Aggies are improved this year (16 returning starters and scared Oklahoma to death in week 1) and Fresno's opening victory over Cincinnati doesn't look so hot now (did you SEE that Cinci/NC State game last night?). Also, despite Utah State's poor record last year, they were 8-3 against the spread (already 1-0 this year as well). Meanwhile Fresno was only 6-5 ATS and lost their bowl game straight up as 10-point favorites. Utah State is a team filled with seniors and has a very good chance to win this game at home, so I think getting points is a must play.

Dawgola's play: Utah State +5





#24 ARIZONA (+1.5) vs. #9 Iowa

-- Arizona has the best quarterback you've never heard of in Nick Foles. His number so far this year are RIDICULOUS: 49/59 (83.1%) 574 YDS 3 TD 2 INT. As expected they have dominated their first two opponents (Toledo & The Citadel) by a combined score of 93-8. Their defense has only allowed 177 yards per game through the first two games as well (ranks third nationally). Given USC's troubles, I think Zona is primed to break through the PAC-10 now that they have a competent QB. Iowa, although a veteran team that won the Orange Bowl last year, was a little bit smoke and mirrors: they beat Northern Iowa by 1, Arkansas State by 3, Michigan by 2, and Michigan State by 2. There is no way they are able to win that many close games this year. Arizona will also have revenge on their mind since they lost in Iowa City last year. I think this is a classic "rowdy drunk night-game crowd leading their team over slow boring Big Ten team" game. Iowa dries up in the desert.

Dawgola's play: Arizona +1.5





WYOMING (+23.5) vs. #3 Boise State

-- This game goes beyond the stats. This is Wyoming's first home game since their freshman linebacker was tragically killed in a car accident. To say that karma is on their side would be quite the understatement. Everyone in the state of Wyoming (which equates to about 5,000 people) will be at this game. But there are other reasons I like the Cowboys:

Climate -- Laramie, Wyoming is located at almost 7200 ft above sea level. I mean, unless you have ample time to adjust to that (which Boise doesn't) it will certainly be a factor. If Wyoming can keep it close, Boise's starters could be sucking wind in the second half. It's also supposed to be in the mid to low 40's that night, which Boise is also not used to (today's high is 89 degrees in Boise, ID).
Classic look-ahead game -- Boise plays their home opener next week against #25 Oregon State, which most say is their only "losable" game until they play Nevada in late November. I can't think Boise will be terribly interested in playing this Wyoming game.

Wyoming is not that bad -- Last year, with a freshman QB (2010 Hyphman candidate Austyn Carta-Samuels) and a first year head coach (Dave Christensen), Wyoming was still able to win a bowl game. Last week, they went to Austin to play Texas and were actually winning 7-6 with 5 minutes left in the first half...speaking of playing Texas, this also means Wyoming will not be intimidated by Boise's players, who are good but nothing like the athletes Texas has.
I'm not guaranteeing a Wyoming victory by any means but I think if Boise comes out and gives up an early TD, it could make for an interesting contest. I think this could be a shootout type of game and I think Wyoming will move the ball on Boise. I mean, VA Tech was able to move it with a 1992 offense.

Dawgola's Play: Wyoming +23.5