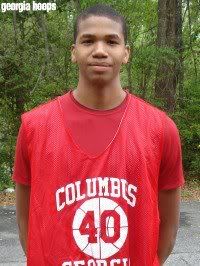 Yesterday (Sunday), we found out Mark Fox got a new verbal commitment for 2011 in three-star (according to Rivals.com) Oldsmar, Florida PF/C
Tim Dixon
. Dixon played in Columbus (Kendrick High School) his junior year, but is now at Oldsmar Christian School (near Tampa, FL) for his senior season. He also plays with fellow 2011 Dawg commits Kentavious Caldwell and Nick Marshall on the Georgia Blazers AAU team. He is listed at 6-9 with a wingspan of 7'4'' but is only 200 pounds so he'll need to add some bulk before he starts banging down low in the SEC. He also had offers from Alabama, South Carolina, Florida State, and Oklahoma State.
According to his
ESPN recruiting profile
, he is long, lean, and athletic (becoming a theme for Fox's commits in case you haven't noticed) and is a very good shot-blocker given his long wingspan. He also can take defenders off the dribble, is comfortable with the ball 10-12 feet away from the basket, and plays physically on offense despite his lean physique. It does say that he looks uncomfortable at times in the half-court offense but is overall a very smart player with tremendous upside.
This is a huge commitment for the Dawgs given our departures after this season in the frontcourt (Price, Barnes, and probably Trey). Fox is clearly trying to add length as well as athleticism with the 2010 and 2011 classes: SF Marcus Thornton (6-7), PF Donte Williams (6-9), SG Kentavious Caldwell (6-6), and now Dixon, who is 6-9. Not to get into X's and O's already but I would expect the Dawgs to play A LOT more man-to-man defense this year and next.
Hopefully this is just another piece to the already exciting 2011 class. After all, recruiting is about momentum so....Julian Royal....come on.....everybody's doing it....just say the words....please...it would be huge...quickly....thanks.