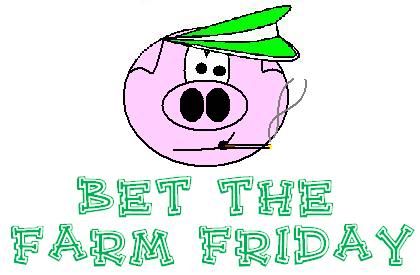 (Note: Bet the Farm Friday or (BTFF) will run every Friday with the implied assumption that a) FH2H doesn't encourage gambling, b) we only encourage sports betting where legal, AND c) there are a lot of online sportsbooks available that are ambiguous on the legality so it should be okay...wait, did I say that out loud...nevermind....moving on....)



The new season is only six days away folks. Thus, any college football fan's natural instincts are telling him to start looking at some betting lines. Since BTFF runs on a Friday (not to insult anyone's intelligence) we will look at next

Thursday's

games today. (The rest of the games will be covered in next Friday's edition.) First let's look at all the current game lines for Sept. 2 (

home teams listed first

):

Ohio St (-28.5) vs. Marshall

(7:30 Big Ten Network)
South Carolina (-14) vs. Southern Miss (7:30 ESPN)
Middle Tenn St (+2) vs. Minnesota (7:30 ESPNU) -- (This game could drastically change because the availability of suspended MTSU QB is still up in the air. Judging by the line, Vegas is expecting him NOT to play. MTSU opened as a 4.5 point FAVORITE.)
UAB (-15) vs. Florida Atlantic (8:00 tba)
Iowa St. (-3) vs. Northern Illinois (7:30 FSN)
Utah (-2.5) vs. Pittsburgh (8:30 Versus Network)
Hawaii (+21) vs. USC (11:00 pm ESPN)

And now the games I like:


South Carolina (-14) vs. Southern Miss -- While at first glance this looks like an upset alert, Southern Miss is in trouble on the offensive side of the ball. They only return 3 starters on their entire offense, and will trot out 4 new starters on the offensive line, which is NOT a position you want inexperienced. In addition, Southern Miss wasn't exactly dominant last year, going 7-6 with a Conference USA schedule. They do return 9 starters on defense, which is the only way they might stay in this game. South Carolina meanwhile, returns 15 starters, not counting prized Freshman running back Marcus Lattimore. Don't be worried about the QB situation for this game either; remember two years ago, when USCe played NC State in their home opener? Spurrier flipped QBs during the game and the Cocks still won 34-0. Tack on a little homefield advantage and I think Carolina takes this game easily.

Dawgola's play -- South Carolina -14

Utah (-2.5) vs. Pittsburgh -- This game should be a fun one to watch. You have Utah, who returns 8 starters on offense (and two capable QBs) vs. Pittsburgh, who has arguably the best RB in the Country (Dion Lewis). But here are the problems for Pittsburgh; they are breaking in a new QB (Tony Sunseri), they only return 2 starting O-Linemen, and Dave Wannstedt is only 12-14 on the road since he's been at Pitt. Conversely, Kyle Wittingham is 25-5 at home with Utah, and hasn't lost a home game period since September of 2007. Utah only returns four starters on defense, but Pitt is starting two new cornerbacks, and two new defensive tackles. The X-factor in this game could be the altitude as well. Have you ever tried exercising in the Rockies? It sucks. You get out of breath just walking up the stairs. Pitt won't be used to it.

Dawgola's play -- Utah -2.5.
(Note: I will be keeping track of my "plays" throughout the year to keep myself accountable if I go on a horrendous losing streak. Check twitter as well for updates, including the status on that MTSU QB situation. I might be adding a play before next Thursday.)