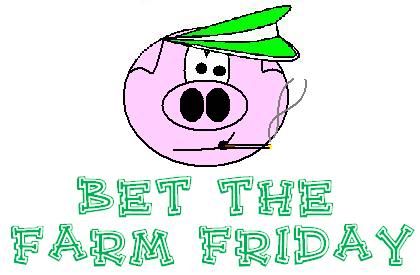 (Note: Bet the Farm Friday or (BTFF) will run every Friday with the implied assumption that a) FH2H doesn't encourage gambling, b) we only encourage sports betting where legal, AND c) there are a lot of online sportsbooks available that are ambiguous on the legality so it should be okay...wait, did I say that out loud...nevermind....moving on....)

Today's Topic
: WNBA Prop Bets. Not Really. Actually, I'm going to stay with my
Topical Tuesday theme
and go over some MLB World Series Odds. I figure this will be the last non-football related
Bet the Farm Friday
for a while, and this is usually the time of year when you start thinking about the homestretch in baseball.
What do you need to win a World Series? Most experts will tell you need just a few things, and I tend to agree:
Three solid to very good starting pitchers
Reliable Bullpen (especially closer)

Some

post-season experience
Once your're in the playoffs any team can get hot at the plate, so in my opinion, past hitting stats aren't as important. Now that we know that....
Let's go over the contending
American League
teams first (with their odds):
N.Y. Yankees 7/4

-- Defending Champs. Obviously they have a chance. Plus, now that Phil Hughes has burst on the scene as a starter (15-5 3.90 ERA), the Yanks should be the favorite. Also, it looks VERY unlikely that won't be in the playoffs -- best record in all of baseball (75-46 as of Aug. 20) and hold a one game lead over Tampa. But even if they lose the division lead, a wild-card bid is almost a guarantee.


Texas Rangers 5/1

-- One appealing thing that stands out: They currently lead their division by

seven

games

. They have three good starters (now with Cliff Lee) but not a lot of postseason experience. Also, they have lost 7 out of their last 10, and this usually coincides with an annual September collapse. Still pretty good value though considering they are a virtual lock for the postseason.


Tampa Bay Rays 6/1

-- Even though they are young, they do have postseason experience (went to '08 WS). They have good pitching, a solid lineup, and are by far the fastest team in baseball. They only trail the Yankees by one game, and should make the wild-card if the Yanks win the division. Not a lot to hate about this pick.


Minnesota Twins 12/1

-- This seems tempting but I'm not falling for it. Why? I don't trust their pitching. I mean, Carl Pavano is having his best season in years, and whose to say he won't revert back to his mediocre ways. Plus, would you feel satisfied running Kevin Slowey out for game 3 against the Yankees or Rays? Didn't think so. Only thing I like -- they lead their division by four games.

Honestly, the rest of the AL teams are either to far out of first, or severely flawed in multiple ways. So, let's take a look at the
National League:
Philadelphia Phillies 5/1

-- Two-time defending NL Champs. But, this year they are 2.5 games back, and may be competing with the Giants and Cardinals for a wild-card spot. However, they have a much more manageable schedule than the Braves, and clearly have the experience to make a run at the division lead.


St. Louis Cardinals 10/1

-- The only thing I don't like about the Cards is their chances at actually making the playoffs. They trail the Reds by 3.5 games in the division, and trail two teams (Giants, Phillies) in the wild-card race. IF they make it to the postseason, I really like their chances...best top-three starters in baseball (Carpenter, Wainwright, and Garcia, who has a 2.58 ERA)

San Diego Padres 10/1

-- Single strangest team in baseball. They've had excellent pitching by their starters and bullpen (rank second in starter ERA and first in bullpen ERA)...and have only one all-star caliber hitter (A. Gonzalez). But remember, hitting is not nearly as important as pitching in the postseason. Plus, they lead their division by

seven

games now. Amazingly, despite winning only 75 games all of last year, they are a legitimate contender.

San Francisco Giants 10/1

-- They're kind of like the Padres except with not quite as good pitching, and a little better hitting. The problem with the Giants is they most likely will have to beat out the Cardinals and Phillies for a wild-card spot, because they trail the Padres by 7 games. Not likely to happen.


Cincinnati Reds 13/1

-- Great offense led by Joey Votto, who is a triple crown contender. They lead their division by 3.5 games. BUT, they're three top starting pitchers are as follows: Mike Leake (rookie), Bronson Arroyo, and Johnny Cueto...so, uh, moving on...


Atlanta Braves 9/1

-- Decided to save the Braves for last. They have three good starters (some combo of Hudson, Lowe (experienced at least), Jurrjens, and Hanson). Their team ERA also ranks second in the NL behind San Diego. But what I really like about the Braves, is their players' post-season experience; Melky, Hinske, Ankiel, Glaus, Derrick Lee, Farnsworth, Infante, McCann, Saito, Wagner, Gonzalez, Ross, Lowe, and Hudson all have some postseason experience. They only question for the Braves will be if they can hold serve against the Phillies. I do like their chances for the wild-card if Philly takes over the division but...the only way I will feel comfortable is if the Braves reach their magic number, which is about 40 games...that being said, 9/1 does sounds pretty tempting.