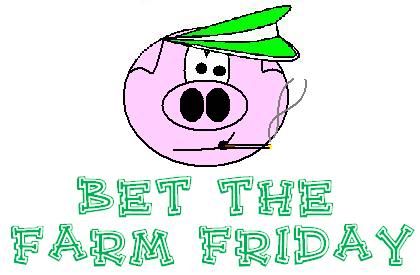 (Note: Bet the Farm Friday or (BTFF) will run every Friday with the implied assumption that a) FH2H doesn't encourage gambling, b) we only encourage sports betting where legal, AND c) there are a lot of online sportsbooks available that are ambiguous on the legality so it should be okay...wait, did I say that out loud...nevermind....moving on....)


Today's Topic: National Title Odds


When determining who will go all the way, there are several pieces of information available that can be analyzed. The
real
skill however, is determining what information is important, and what info is somewhat meaningless. Let's first break down what is important:


1. Coach
-- You can't win it all with an incompetent head coach.
(Quick caveat -- In 2007 LSU won it with Les Miles, but....I mean...they lost their last regular season game and ended up with two losses so...we won't count this year.)


2. Very good Defense
-- Name a National Champion that was just so-so on defense. You can't! And really, it makes sense -- if the other team can't score you're probably going to win.


3. Program Prestige
-- It seems weird that this directly correlates to national champions. But name me a school that has won it all recently that was not a top-ten program.


4. Smart Quarterback
-- Not necessarily dominant, but he can't make stupid mistakes. Even Vince Young didn't make a dumb decision in '05...and that's saying something.


5. Schedule
-- this is by far the most important. If you have all your tough games spread out or at home, this can be a huge advantage.

Here is what is NOT important:


1. Dominant RB/WR
-- it certainly doesn't hurt, but look at Florida. They basically don't even have running backs. Look at Alabama last year. Julio Jones was pretty much a non-factor all season and they still got it done.


2. Returning Starters
-- This only matters for the first few games. Typically a team that returns a lot of starters starts. well...but after that it is irrelevant.

With that said, here are my
best bets
given the aforementioned 5 points for success:

1.
Ohio State 9/2
-- Pryor scares me, but the schedule sets up nicely...only four road games and they get Penn St., Miami, and Michigan at home. Only toughie: at Wisconsin.


2. Oklahoma 6/1
-- Not sure Landry Jones is worthy but he did get some experience last year. The main reason I like OU is the schedule. Only real tests are Texas and at Missouri.


3. Nebraska 12/1
-- Completely laughable schedule. Plus, you know Pelini will have their Defense ready. Only losable games I see are at Washington and at Texas A&M.


4. Iowa 20/1
-- Veteran QB, and they get Ohio St. and Wisconsin at home...plus, Kirk Ferentz has a warm place in my heart now since he beat Tech last year. Only thing that scares me is their lack of success in past years (prestige).


5. Wisconsin 40/1
-- Only tough part of their schedule: Ohio St. at home and at Iowa the very next week. Other than that, 40/1 are pretty tempting odds.

Basically that is it. Here are other teams who I don't like for a variety of reasons:


Because of Schedule
: Alabama 5/1, Florida 6/1, Texas 15/1, Virginia Tech 25/1 (end of the year is brutal), Miami 30/1 (at Ohio St. week 2)

Because of Program Prestige:
Boise 9/1 (zero margin of error with their VA Tech as opener also), Oregon 20/1, North Carolina 40/1 (plus they may not have Little/Austin), TCU (not sure they beat Utah on the road either)

Everyone else fails to meet multiple criteria. Most teams simply aren't good enough or don't have the coaching pedigree to go 11-1 or 12-0. I am calling for NO SEC team to be in the national championship game this year because of a lot of unproven/new talent and tough schedules...if you put a gun to my head now I would probably pick the Buckeyes, but I'm saving my final pick for a later date...it should, however, be one of the five teams mentioned above.