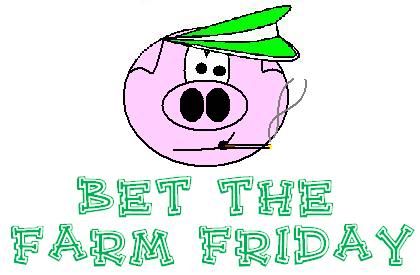 (Note: Bet the Farm Friday or (BTFF) will run every Friday with the implied assumption that a) FH2H doesn't encourage gambling, b) we only encourage sports betting where legal, AND c) there are a lot of online sportsbooks available that are ambiguous on the legality so it should be okay...wait, did I say that out loud...nevermind....moving on....)


This week I decided t0 change gears when it comes to

Bet the Farm Friday

. In honor of the NFL preseason starting this weekend -- "Hall of Fame Game" -- I decided to look at one of the more popular bets out there...

This week's Topic:
SUPER BOWL ODDS
(all odds via sportsbook.com)
The best way to do this in my opinion is 'process of elimination'.

For the sake of time, let's just go ahead and eliminate the following teams for obvious reasons:

Rams, Raiders, Bucs, Bills, Browns, Chiefs, and the Lions.



Now, let's review the past ten

Super Bowl QB winners

:

2010: Drew Brees
2009: Ben Roethlisberger
2008: Eli Manning
2007: Peyton Manning
2006: Ben Roethlisberger
2005: Tom Brady
2004: Tom Brady
2003: Brad Johnson
2002: Tom Brady
2001: Trent Dilfer

Before you scoff at

Brad Johnson

, he led the NFL in Passer Rating the year the Bucs won. As for Trent Dilfer....well...The Ravens had the best defense ever.

So, based on this information, it is highly unlikely that the winning Super Bowl QB is going to be sub-par. So....now we can

eliminate:





Titans

(Vince Young)


49ers

(Alex Smith)


Jaguars

(David Garrard)


Panthers

(some combo of Matt Moore and Jimmy Clausen, who is a rookie)


Seahawks

(Matt Hasselbeck's corpse)


Broncos

(Kyle Orton)


Cardinals

(Matt Leinart)


Eagles

(Kevin Kolb -- I think I like him but this will be his first full year so....no.)


Dolphins

(Chad Henne -- Like Kolb, I like him but this will be his first full year)

I think it's safe to say that no crappy/dufus head coach is going to win it all...so we can

eliminate

:

Chargers (Norv Turner)


Cowboys

(Wade Phillips)


Bears

(Lovie Smith)


Vikings

(Brad Childress)


Texans

(Gary Kubiak)

Now let's look at the odds of the remaining teams:

Bengals, Redskins:

30/1


Falcons, Giants:

20/1


Steelers:

18/1


Ravens:

12/1


Jets, Patriots:

10/1


Saints, Packers:

8/1


Colts:

7/1



Let's be honest, the Bengals will self-implode with Ocho, TO, and PacMan. And quite frankly, I don't think Marvin Lewis is a good coach. So...The

Bengals

are

eliminated

.

We really don't know how the Steelers are going to do concerning the Big Ben situation...and at the very least it is a major distraction. So...The

Steelers

are

eliminated

.

Mike Shanahan has only won one playoff game since Elway retired. McNabb can't seem to get over the hump either. The Skins have no big play receivers. So... The

Redskins

are

eliminated

.

The Jets were VERY lucky to even make the Playoffs last year. They play in a tough division with the Dolphins and Patriots. Plus, Sanchez is still a young QB...and most importantly, the "Hard Knocks Jinx" will come into play. So...The

Jets

are

eliminated

.

I like Matt Ryan entering his third year, but I'm afraid the Falcons' defense is still sub-par. Plus, I'm not thrilled at Michael Jenkins as the number 2 receiver. Mike Smith, who I

think

is a good coach, is unproven in the playoffs. The

Falcons

are

eliminated.



Since realignment, no NFC South team has won the division back-to-back years. Also, the Saints defense will NOT have a +11 Turnover Margin again. Amazingly, I'm

eliminating

the

Saints

.

The Giants went 8-8 last year. They pretty much have the same team. So, the

Giants

are

eliminated.



Love the Packers, and I think they might win the NFC. But, for some reason, I just don't trust Aaron Rodgers yet.

Packers eliminated.



So that leaves three teams: Ravens, Patriots, and Colts. For the sake of value, a coach that doesn't appear to have a pulse (Jim Caldwell) should not be the favorite. I think the Colts

can

still win the SB but...7/1 doesn't sound appealing.

So, who do I like? The way the Ravens dominated the Pats in the playoffs last year was impressive. Given that the Ravens are 12/1, and the Pats are 10/1,

I officially choose the Ravens 12/1 as my Super Bowl winner

: Solid coach, year-three for Flacco, great RB (Rice), and of course the good defense.

Straight cash.