(In case you missed last week's episode, find it here.)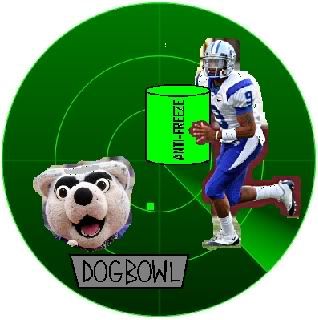 First up, a team who would be described like, "Well Mike, these guys play real fast. That QB really has the ability to get the ball to his recievers and let them make plays. I tell you what, these guys really get after it more than most teams I've seen this year."
IN THE RADAR:
University of Washington Huskies
Since the departure of Steve Sarkisian from USC and his arrival in Seattle last year, the Huskies have gained a bit more credibility and seem to be a trendy upset pick week-in and week-out. If the media and Jake Locker can do anything to elevate their national status, they certainly have left no stone unturned. It doesn't hurt that Jake Locker has quite a bit of experience in his 236 years under center for U-Dub.
The only reasons that people believe that UW can be a viable contender in the Pac-10 are the aforementioned Locker and Sarkisian. This is the same quarterback that led them to an 0-12 campaign in 2008, which, by the way, had never happened in the history of the FBS. Notwithstanding Mel Kiper's man crush, this is also why Locker gets my "Most Likely to Be Leaf-ing for the NFL" award. Also consider Dual-threat uber-QB's success rate in the NFL. It's horrendous. I can't see how such a talented guy couldn't beat Wazzou even with a bunch of corpses. Embarrassing.
They do have a decent running back in
Chris Polk
(via
cfbstats
), who gained over 1100 yards last year. He and the rest of their skill position guys are VERY young as well. The defense is horrible, especially on the road where they gave up over 450 yards of offense per contest. This is the main reason I believe that UW is going to struggle. Too much focus on the offense, especially with Sark as an offensive guy, and too little on the defense. The schedule also could be a bugaboo with away games including BYU, USC, Arizona, Oregon, and Cal. Tough home games include Nebraska, OSU, and Stanford.
My prediction:
6-6, 6th in the Pac-10.
UNDER THE RADAR
:
Middle Tennessee State Blue Raiders

If you didn't see the R&L Carriers New Orleans Bowl last November, wait December, I wouldn't blame you. Not the most flashy of matchups with Southern Miss and MTSU. You did, however miss one heck of a performance by the Blue Raiders and particularly QB Dwight Dasher, of Charlton County. Larry Fedora seems to be a pretty decent coach and, not knowing much about MTSU, I thought it was a decent upset. Mental note added.
The Sun Belt Conference doesn't provide the greatest competition for the Blue Raiders with perennially bad teams such as ULM, Louisiana-Lafayette, Arkansas State, FIU, Troy, and North Texas. If you haven't noticed there is quite an abundance of
Gary Barnett VIP Clubbers
in that league. Combine the atrocious conference slate with a
very good quarterback
and supporting cast, and you've got an easy road to 10 wins. Bonus points are added because
Rick Stockstill
, has an awesome name and Lou Holtthsz coaching tree lineage.
The Blue Raiders open with Minnesota at home (a surprise), and I'd put my money on a W there. They also play Georgia Tech, where I'm hoping for a win but not planning on one. Key games in conference are all at home, with FAU and Troy coming into Murfreesboro.
My prediction: 11-1, Sun Belt Champs
(Hopefully they'll wreck Tech and be 12-0)