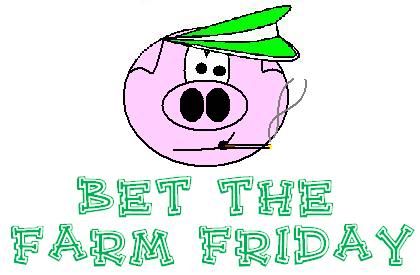 (Note: Bet the Farm Friday or (BTFF) will run every Friday with the implied assumption that a) FH2H doesn't encourage gambling, b) we only encourage sports betting where legal, AND c) there are a lot of online sportsbooks available that are ambiguous on the legality so it should be okay...wait, did I say that out loud...nevermind....moving on....)


Today's Topic:
HEISMAN ODDS
First, let's agree that the Heisman has become a different animal in the past ten years (2000-present), mostly due to ESPN's increased coverage, a variety of internet exposure, etc. So, let's start by pointing out facts (or rules) we KNOW about Heisman winners since 2000:
1.
The only players to win the award in the past 10 years and NOT play for a National Championship are Tebow (2007) and Carson Palmer (2002, who
at least
played in the Orange Bowl).
2.
EVERY winner from this time frame has played at a BCS school: SEC (2), Big Ten (1), Pac-10 (3, all USC), Big 12 (3), and ACC (1).
3.
The position breakdown is as follows: 8 quarterbacks, 2 running backs...no other position has won it.
4.
No one in this time frame
has won it twice [insert Archie Griffin anecdote]
5.
Okay, I'm cheating a little because this isn't necessarily a fact, but with the exception of Tebow,
stats do not matter as much these days
. I mean, do you think Andre Ware and Ty Detmer would actually hoist the Heisman today? No way. And even Tebow was working with a little extra help (God-like status and played at a major program).
So, using these five rules let's examine some of the potential winners and their odds
(by the way, I'm getting these odds from sportsbook.com. Why? Because they follow us on twitter):


Mark Ingram 7/2
(RB Alabama): Ingram is the favorite odds-wise but because he violates rule 4 he has little value to me.
Ryan Mallett 10/1
(QB Arkansas): Violates rule 1 and possibly rule 5. If you violate two rules you've got to do better than 10/1.
Kase Keenum 12/1
(QB Houston): Violates rules 1, 2, AND 5. Next....
Jake Locker 12/1
(QB Washington): Hmmm, he actually only violates rule number 1. But it's a BIG rule number 1. Unless he has Tebow 2007 stats (which he didn't come close to last year) his team has to pretty much win the Pac-10 which is unlikely to happen.
Kellen Moore 15/1
(QB Boise St.): Strangely, he violates rule 2 but not rule 1.
DeMarco Murray 15/1
(RB Oklahoma): I'm making up this rule as I go: Don't bet on anyone who will get hurt.
Garrett Gilbert 25/1
(QB Texas): Texas only has 5 returning starters on Offensive. Might lack help.

Other Rule 1 violators
: Jacory Harris 12/1, Dion Lewis 12/1, Noel Devine 12/1, Christian Ponder 15/1, Damien Berry 18/1, Josh Nesbitt 50/1, Andrew Luck 15/1, Evan Royster 12/1, Tate Forcier 30/1, Matt Barkley 18/1 (I promise he won't go to the NC), Jaquizz Rodgers 20/1, Blaine Gabbert 50/1, and Robert Griffin 60/1.
So, who

can

win it?
Well, here are my best bets:
1. Terrell Pryor 5/1
(QB Ohio St.):
I know, he looked awful at times last year but his number weren't as bad as you think: 56.6 completion %, 18 td's, 11 int's and ran for 779 yards. Remember Eric Crouch? Plus, Ohio State is the favorite to win the Big Ten which means he should fit nicely into Rule 1.
2. John Clay
12/1
(RB Wisconsin)
: I'm giving Wisconsin a
chance
to win the Big Ten and if they do, Clay would undoubtedly shoot up the Heisman list. Another redeeming factor: You KNOW, analysts will say things like, "I tell ya, when I see this guy in a Wisconsin uniform, I can't help but to think of Ron Dayne".
3. Landry Jones 20/1
(QB Oklahoma): Why? Well, most consider Oklahoma the favs of the Big 12. Plus, two other Oklahoma QBs have won it since 2000 (Jason White, Sam Bradford).
4. LaMichael James 30/1
(RB Oregon): Just good value here. With USC out of the picture in the Pac 10, Oregon now becomes the favorite. Possible problems: Suspended for first game, new QB due to Masoli's outstanding judgment, and I'm a little worried he might split carries with 7 other guys.
5. Not listed but I would consider
: John Brantley, for obvious reasons. If you can get a field bet including Brantley I think it would have good value.
So, there you have it. Easy money.
(Side Note: In case you missed my Monday posting on future odds
HERE it is.)