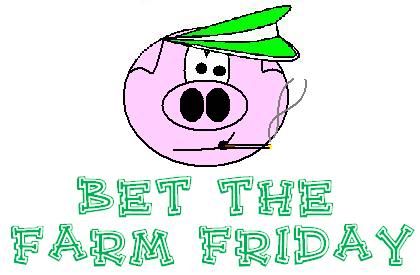 (Note: Bet the Farm Friday or (BTFF) will run every Friday with the implied assumption that a) FH2H doesn't encourage gambling, b) we only encourage sports betting where legal, AND c) there are a lot of online sportsbooks available that are ambiguous on the legality so it should be okay...wait, did I say that out loud...nevermind....moving on....)


Today's Topic:

2010 Regular Season Win Totals



Basically, you just bet whether a team will win more or less than the posted number of games (postseason games do not count). Now, a novice might just bet the over on their favorite team, or just look at a certain team's performance record-wise from the previous year. So, what do I use to determine a team's success? Well, let's just compile a small list of things I (D. Tesla) think is important:



1. Returning talent-

Teams that lose depth and starters (particularly QB) will most likely not perform at as high a level as the previous season for obvious reasons; inexperience, team chemistry, etc.



2.

Coaching Staff-

You must remember that coaching is very important and a completely new staff must be taken into account. Likewise, a staff that has been together for multiple seasons is more likely to yield consistent (not necessarily better) results. In a lot of cases, even if the new coach is superior, it might take the team a couple of years to adjust.



3. Schedule-

Is the schedule tougher or easier than last year? How is the schedule weighted? Are the tough games bunched up or spread out evenly throughout the year? How many Home/Away games are there? These are questions you must take into consideration.



4.

Lastly, and this is somewhat hard to quantify, what are a team's nationwide expectations? Remember how Clemson in 2008 was the sexy pick to win the National Title? Or Ole Miss in 2009? They were not used to the pressure and subsequently failed to meet expectations.

So, now that we've established what is important, here a

my 4 best bets

:

1. Arkansas

Under

8.5

wins-Last year's record was 7-5. This year they play very similar opponents. Why under? They return 7 starters on a defense that gave up 401 yards of offense per game last year. The only games they gave up less than 20 points were Missouri St. (10), Texas A&M (19), and South Carolina (16). The schedule does not set up favorably either; they play UGA, Auburn, South Carolina, and Mississippi State (not as easy as you think) on the road and that's not counting Alabama and LSU at home. In order to go over 8.5 they couldn't lose more than three of those games. Another good thing about betting unders...injuries! What happens if Ryan Mallett gets knocked out of a game or two? This would undoubtedly hurt the Hogs' chances for success. And lastly, look at my 4th rule above. When is the last time Arky has had these expectations? Not in my lifetime. I say under 8.5.

2. Alabama

Under 10

wins-This one is pretty simple; if you bet under 10, the only way to

lose

money would be for Alabama to go 11-1. They only return

two

starters on defense and being the defending champs, will have the target on their back every game. Their schedule is somewhat brutal as well, given that they play Arky, South Carolina, and LSU on the road, and play Penn State, Auburn, and Florida at home. To say they will only lose one game is a bit optimistic in my opinion. Alabama Under 10.

3. Arizona State

Under 6

wins-Uh, someone needs to tell the Vegas people that Arizona State only won 4 games last year and only returns 9 starters total for this year. Do they play an easier schedule? No....at Wisconsin, Oregon, at Oregon St, at Washington, at Cal, at USC, Stanford (8-5 last year), and at Arizona...and UCLA at home, who they lost to last year. If you bet the under, they would have to win 7 games to beat you. This would be a shock given their struggles last year with a similar schedule.

How about an

over

bet...

4. California

Over 7.5

wins-Here is what I like about Cal: unlike the rest of the Pac-10, they went out and scheduled easier non-conference games (UC Davis, Colorado at home, and a somewhat tricky but very winnable Nevada on the road.) They only play 5 road games, but one of them is Washington State, which is as close to a guaranteed win as they come. Plus, this is a very good year to knock off USC on the road. Cal returns 16 starters (counting the kicker and punter) including a senior QB and 4 out of 5 Offensive Linemen on a team that went 8-4 last year with a similar schedule. This year, every game is winnable so that is why I am calling for Cal over 7.5.

Straight cash my friends.


(all odds came via vegasinsider.com)